Technical Solution Manager (f/m/d) for innovation projects
New Business Development
Vienna
FREQUENTIS AG
From now on
Full time
Job Introduction
Frequentis Group with headquarters in Vienna is an international supplier of communication and information systems for control centres with safety-critical tasks. Worldwide, more than 500 customers in some 150 countries with more than 35,000 workstations already trust our know-how and proven experience.
Frequentis is actively involved in the creation of the
new mission critical broadband communication and data exchange infrastructure
for PPDR (Public Protection and Disaster Relief - Fire, Police and other agencies) in Europe enabling standardized mission critical Push-To-Talk services over LTE/5G Networks. The
Department New Business Development
creates solutions and business models for new Markets in the safety critical area.
For the further advancement of the business we search for a Technical Solution Manager (w/m/d). In this position you will be the first point of contact for the customer regarding the technical aspects.
Your main tasks are: Finding a suitable technical solution for the customer, being responsible for and managing the technical part of the project as well as coordinating the customer, external partners and internal interfaces.
Key Tasks
You are the main technical contact for customers, suppliers and internal interfaces (documentation, test department, development, etc.) in large projects
You will develop a multi-stage staging setup that enables the automated distribution of software in safety-critical areas
You participate in the creation of an ecosystem for end-user apps (Android) in a professional environment and manage the app suppliers for this purpose
Another responsibility is the technical risk management including security and safety aspects
You will work on the "Frequentis Innovation Yard" as a cloud service for innovative software projects in the safety-critical environment
Key Qualifications
Several years of experience in technical coordination with customers in the IT/software/telecom project business (e.g. as Senior System Engineer, Technical Solution Manager or Technical Project Manager)
Willingness to shape and establish cross-divisional and cross-company engineering processes
In-depth knowledge of technologies in the ICT environment coupled with good generalist IT know-how (OS, networks, virtualization)
Business fluent in German and English required
Pleasure in finding solutions in coordination with the customer and internal product interfaces
Fun and pleasure in communication (both internal and external)
Knowledge of 3GPP standards (LTE/5G), especially 3GPP "Mission Critical Services" (MCS)
Our Values
Around 1,900 employees from 55 nations of Frequentis are committed to creating a safer world with their innovative strength and technology orientation. Our culture is based on a working environment characterized by fairness and trust, mutual respect and appreciation. As an international company, we value this diversity and recruit regardless of age, gender, origin, ethnicity, sexual orientation or religion. We value fair and good working conditions, an optimum work-life-balance and offer all our employees equal development opportunities. In doing so, we focus on long-term working relationships in order to keep the valuable know-how of our employees stable.
Frequentis Benefits
| | | | | | | |
| --- | --- | --- | --- | --- | --- | --- |
| | | | | | | |
| TRUSTED | OFFICE | HOME | MODERN | MENTORING | TRAININGS | FITNESS |
| WORKING HOURS | RESTAURANT | OFFICE | IT-EQUIPMENT | PROGRAM | | & CO |
Annual Gross Salary EUR 50000 Your individual salary is based on your professional experience and qualifications and is part of our attractive total package.
Frequentis Benefits
| | | | | | | |
| --- | --- | --- | --- | --- | --- | --- |
| | | | | | | |
| TRUSTED | OFFICE | HOME | MODERN | MENTORING | TRAININGS | FITNESS |
| WORKING HOURS | RESTAURANT | OFFICE | IT-EQUIPMENT | PROGRAM | | & CO |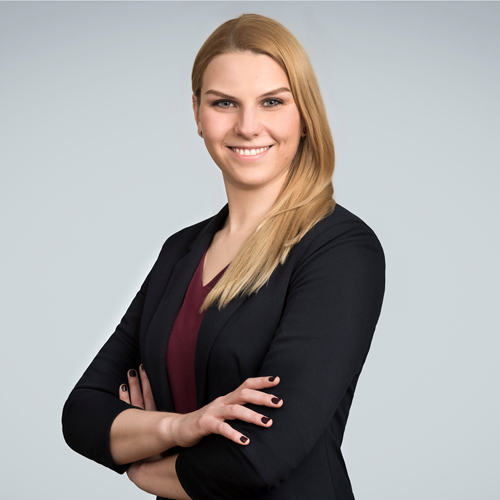 Magdalena Feit
Human Resources | +431811501185 | Social media contact
"With individual examples in your motivation letter and first interview, your application stands out and shows, what makes you unique."
Become part of Frequentis and apply now - our CV parsing will make your application easier and faster!
At Frequentis we don't just create innovations,we create a kind of wonderto make the world a safer place.